In response to an article in Vermont's Brattleboro Reformer ("Immigrants could ease population decline," Feb. 14), Earth Overshoot Executive Director Terry Spahr wrote a Letter to the Editor ("Let Vermont grow smaller gracefully", Feb 17) explaining why a smaller population should be celebrated and not feared.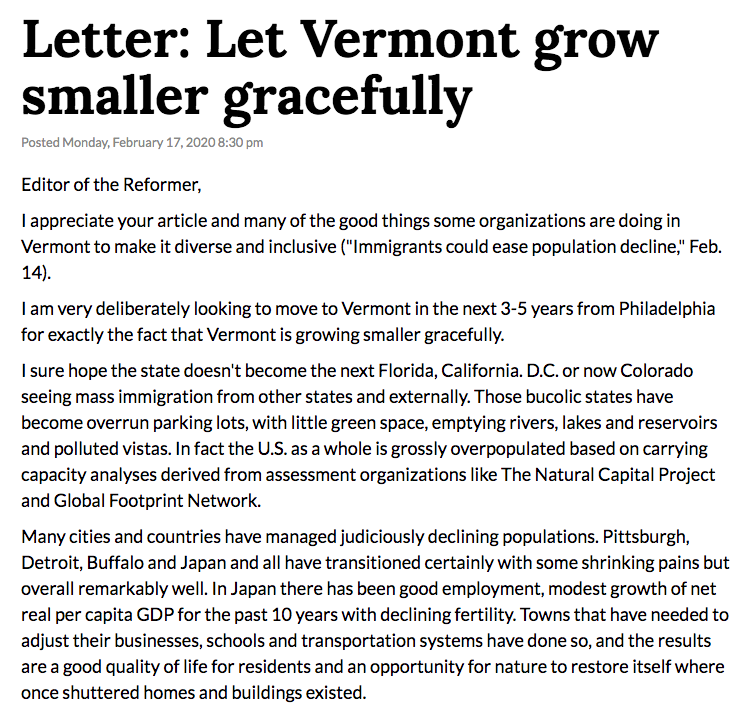 ---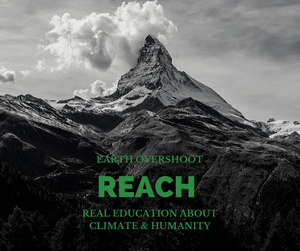 Earth Overshoot Expands Its REACH:  Bring Us To a Community Near You
REACH (Real Education About Climate & Humanity) is Earth Overshoot's program designed to educate and empower students, professional, social and civic associations, and conference attendees to take the steps that have been scientifically-proven to heal the planet and provide the best chance for global peace, prosperity and health. The project is spearheaded by Executive Director Terry Spahr and features movie screenings, moderated discussion groups, press outreach, and speaking engagements and furthers the organization's mission to put real sustainability at the center of all private and public decision-making. The program recently received a big boost in the form of a grant to expand its reach geographically and through enhanced educational materials. 
"We are proud to receive such generous foundation support as a vote of confidence for our education initiatives that further a better quality of life," said Earth Overshoot Executive Director, Terry Spahr. 
If you would like to employ REACH in your community, find out more here. 
---
What Compelled a Real Estate Executive to Produce a Film on Overpopulation?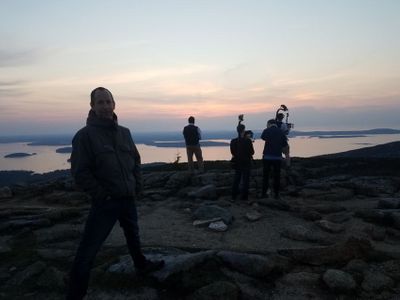 Terry Spahr never fancied himself a filmmaker, and even now, with his first documentary on its way to film festivals and screenings, he has no plans to continue making movies.
But Spahr says his message was too vast and too vital to take any other form. That's why, in 2016, he left his 20-year career in real estate and devoted himself to creating 8 Billion Angels.
With Spahr as executive producer, the documentary lays out the problem lurking behind Earth's greatest environmental woes, from climate change to ocean acidification, deforestation to mass extinctions, rising seas to polluted air. It's a problem people don't like to talk about: the sheer number of us. 
Read more here about how tackling our population problem offers our best hope for real sustainability: https://thepenngazette.com/is-our-planet-too-crowded/
---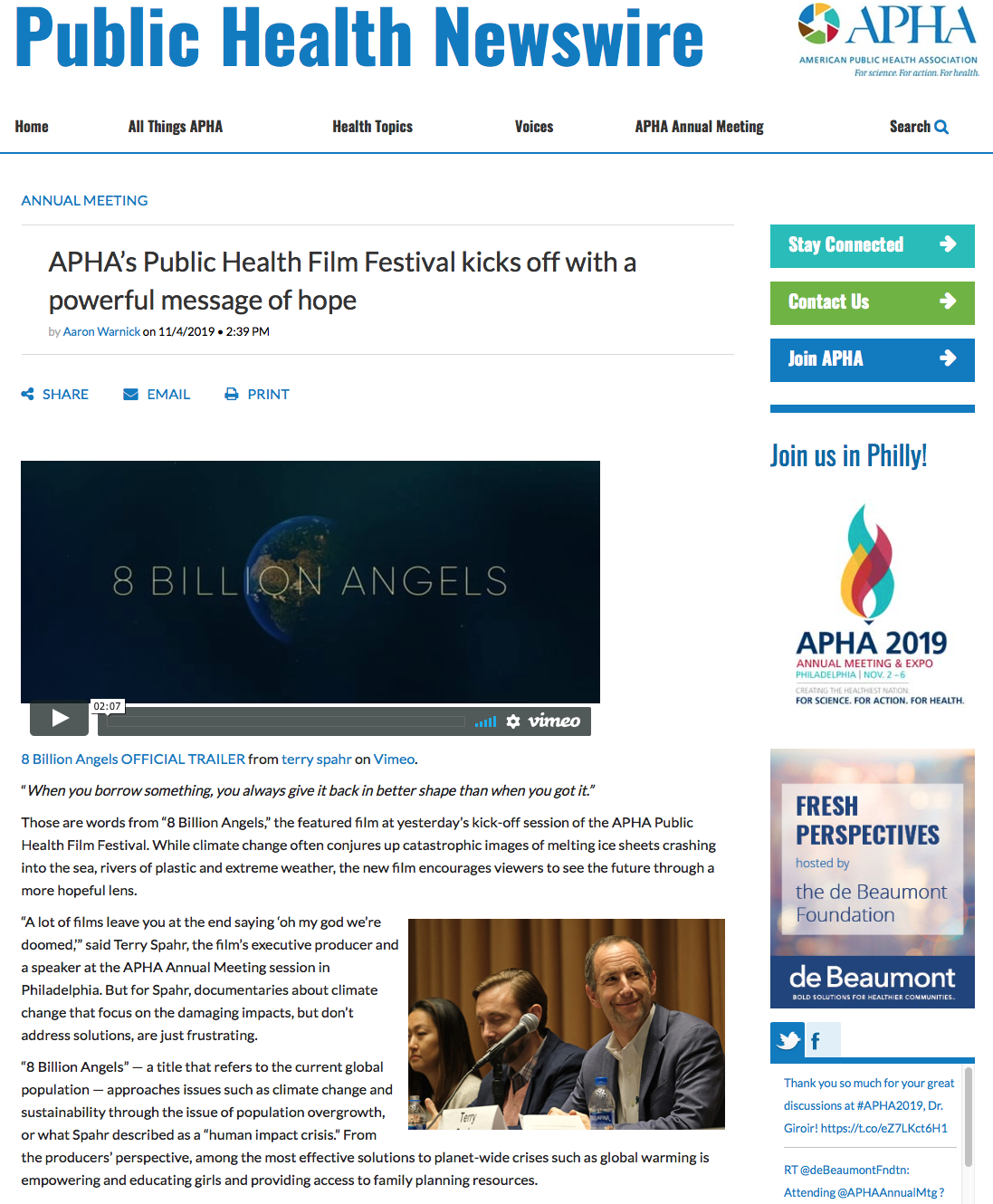 ---


For many reporters covering climate, population remains the elephant in the room
Earth Overshoot's Terry Spahr was interviewed and quoted in September 18th edition of the Columbia Jouralism Review online magazine, cjr.org, regarding why more journalists aren't talking about human population in proportion to the climate impact that it can have.  As part of the Review's Covering Climate Now intiative, Author Wudan Yan writes that "although journalists are reaching a consensus on the gravity of the climate crisis, there is no such consensus on how to link the issue of population with climate change—or whether the link should be made at all." Read the full article here.
---
Do You Want to Be Politically Correct or Save the Environment? Terry Spahr Speaks With Green Dreamer

"If you care more about the environment than political correctness, then we have to come together as cheerleaders for a better, safer, less crowded, and more sustainable world."
On this podcast episode, Terry sheds light on what a truly sustainable lifestyle with seven billion people on earth should really look like; why population growth has been the elephant in the room that needs to be discussed more openly as a solution to lessening our environmental impact; how we can work with the nuance that people in "developing countries" have less of an ecological footprint compared to those living in "developed countries"; and more.
Hear more about the conversation between Terry and Green Dreamer Podcast's host, Kamea Chayne. Listen Here!
---
Born to Be Wild: Terry Spahr Speaks with Rewilding Earth about the #1 Way to Heal the Planet
Rewilding Earth host Jack Humphrey speaks with Earth Overshoot Executive Director Terry Spahr about his organization's efforts to use proven, practical and measurable actions to heal the planet and achieve real sustainability. They also discuss 8 Billion Angels, the ground-breaking new documentary exposing overpopulation's primary role in our environmental emergencies, from climate change to aquifer depletion, water pollution and overfishing. 
Click below to listen in: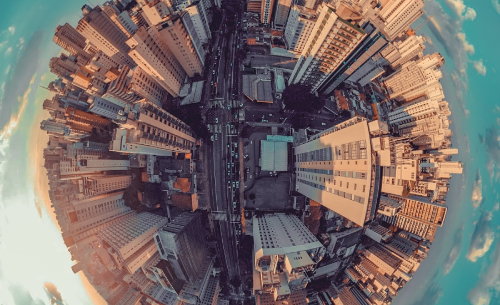 It's World Population Day
So What?
World Population Day 2019 is observed on July 11 and is meant to focus attention on the urgency and importance of population issues. Although it has been around for more than 30 years, World Population Day has done little to inspire enough action to slow down our skyrocketing global population. Since its start in 1989, the world's population has rocketed past 5 billion and is projected by the United Nations to reach 10 billion by 2050. 
So what good is World Population Day?
For those of us in the second half of life, the changes are evident. There have been massive improvements for humanity in our health, lifespans, human rights, and standards of living. At the same time, there have been irrefutable side effects and unintended consequences of this increased human development and prosperity. 
We have strip-mined the topsoils, decimated the fisheries, leveled the forests, drained our rivers, lakes and aquifers, melted the glaciers, polluted every corner of the globe, and exterminated untold numbers of species in pursuit of economic growth and a better life.
 Because these changes appear gradually over the course of a lifetime, we are able to just sit there and ignore them, but from the perspective of human history and geologic time these changes are far more dramatic and instantaneous. For the youngest generation, we run the risk of having today's problems be considered the acceptable norm: high housing costs, overcrowded schools and cities, traffic jams, smog and record heat waves, beach closures from pollution runoff, campsite lotteries, loss of green space, algae blooms, illegal poaching and fish catch limits. 
But if we are at this point today, what will their world look like when they reach their midlife, in 2050? The prospects are not heartening when you consider:
2 billion more people and 20 billion more farm animals will live on the planet, all consuming land and resources for their sustenance and emitting wastes far faster than the earth can absorb.      
25 million kilometers more roads, enough to circle the earth's surface 600 times, will cut through our neighborhoods, destroy more animal habitats, and carry vehicles that pollute our land, air and waterways.
There will be double the square footage of buildings covering the Earth than there is today, depleting and destroying more natural resources and encroaching on more animal habitats. 
Are we willing to let this become the status quo for those born at mid-century? An earth largely devoid of nature and severely out of balance with humanity's growth?
It doesn't have to be. There are many we can do right now to prevent it. It's as simple as: 
lending your support, financially and vocally, to individuals and organizations that promote smaller families through the education of girls, women's empowerment and family planning; 
talking to your friends, colleagues, neighbors and family about reducing population as the #1 solution to fix climate change and all of our long term environmental emergencies; 
contacting political leadership to demand they prioritize measures that slow population growth to achieve the huge environmental, economic, social and health benefits that can benefit all of us on the planet. 
For more information about why these actions are important and ways you can help, visit: www.earthovershoot.org and www.8billionangels.org or contact us at: info@earthovershoot.org.
8 BILLION ANGELS INSPIRES 'CITY CHANGERS' AT 2019 URBAN FUTURE GLOBAL CONFERENCE
Terry Spahr Screens Documentary at European Sustainability Gathering
 
While most of us in the United States were gearing up for the Memorial Day weekend, Earth Overshoot Executive Director Terry Spahr was screening his documentary, 8 Billion Angels, for some of the 2,500 "CityChangers" from 400 cities around the world attending the Urban Future Global Conference (UFGC) in Oslo, Norway. The event, which launched in 2014, is Europe's largest event for sustainable cities and emphasizes its belief that the best hope for solving urban challenges are people, not technology, driving positive change.
After screening 8 Billion Angels at the Vega Scene theater, Spahr took part in a filmmaker Q&A, during which he shared his inspiration for making the documentary, and stressed the need for "CityChangers" to factor in population when formulating emission-reduction strategies. The audience responded with questions about the role of "efficiencies" in achieving sustainability, as well as praise for the film's emphasis on family planning, girls education and women's empowerment.
"Innovative and forward-thinking people are putting their heart and energy into projects to make our cities better places to live in - for us and for future generations. Let's listen to them, share their ideas and start acting," said Gerald Babel-Sutter, Founder and CEO of the UFGC.
UFGC was created to foster the exchange of ideas between cities, to establish a set of best practices and to spur innovation, cooperation and competition. Some of the more interesting titles of conference sessions included, "We're so fu**ing late: status of our CO2 reduction efforts"; "Scrap the chatter: Getting the job done!" and "Cutting emissions: leadership makes the difference."
"One of the concepts that I tried to help the CityChangers present understand," said Spahr, "is that efficiencies and the technologies that create them can only go so far and oftentime result in greater growth into and depletion of the natural reserves that sustain us as a planet. For instance, although fuel-efficient cars burn less gasoline per mile, the lower cost at the pump tends to encourage extra driving. There's also an indirect rebound effect as drivers use the money they save on gasoline to buy other things that cause more material and resource extraction and produce other greenhouse emissions, like new electronic gadgets or vacation trips on fuel-burning planes."
---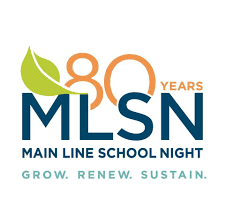 Climate Change or Overshoot?
Earth Overshoot Executive Director Terry Spahr was invited to teach a class at the Philadelphia-based Main Line School on the topic of "Real Sustainability." One of the key issues he addressed was the tendency for us to focus on one symptom of our overall environmental overshoot, like climate change, versus the totality of the problem. In light of the recent UN Report on the extinction of one million species, Spahr's simple and effective action steps resonated with students and may inspire them to make significant changes in their daily lives. 
Earth Overshoot Tackles the Population Taboo
Earth Overshoot Executive Director Terry Spahr delivered a practical guide to an audience of scientists, environmental activists, sustainability students and others attending the Having Kids Forum, "Tackling the Population Taboo: Creating a sustainable Future for Children" at the George Washington University in April.
Terry's presentation touched on practical steps that the audience could leverage to mainstream and market the message that the single greatest carbon offsetting strategy available to individuals and countries to stop climate change is promoting small families. Messages that are plain, personal, and proactive are the most successful when trying to affect social change and achieving a sustainable lifestyle.
Many countries have done marvelous jobs at reducing birthrates all in the context of human rights (see graph below), all voluntarily with intentional campaigns that improved women's and children's health, increased financial security, expanded economic and educational opportunities. This win-win-win approach eclipses any other conservation initiatives and has shown the greatest impact in improving lives and healing nature. 
 
---
February 23, 2019- The Wall Street Journal featured Earth Overshoot's Letter to the Editor. Executive Director Terry Spahr wrote concerning the often overlooked benefits of declining birth rates.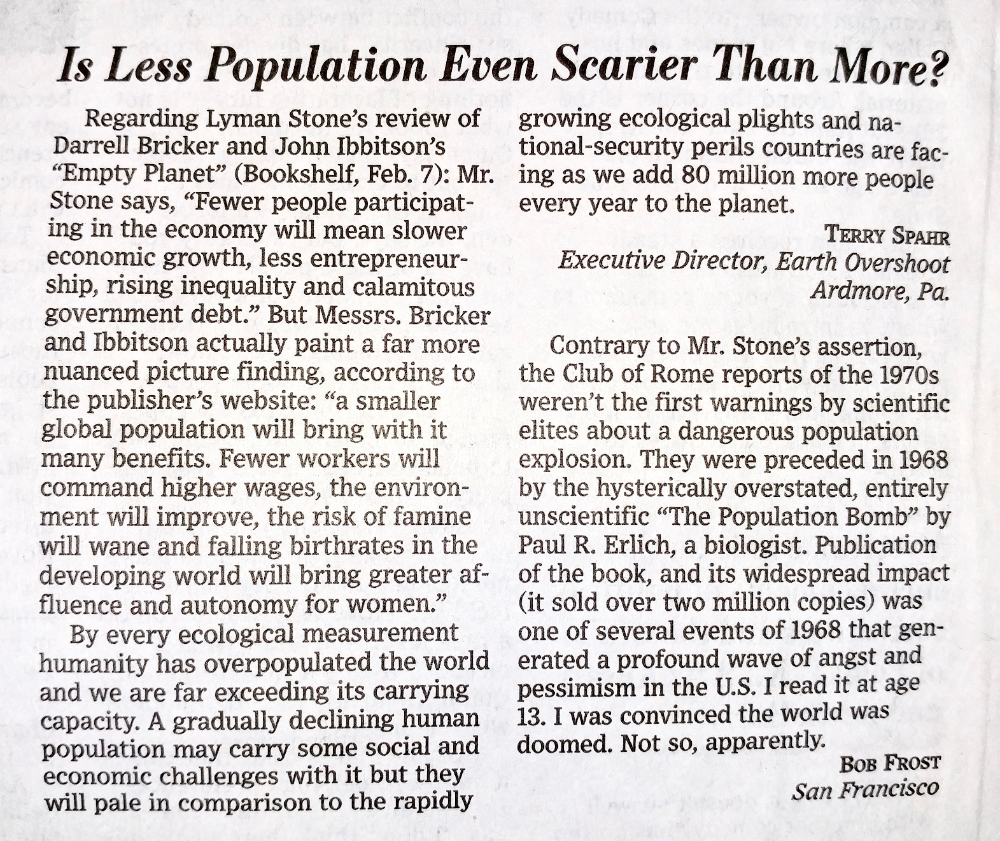 ---